See ya in the gumbo!
My great grandpa said this instead of "good-bye." It means see ya out there in the mix.
Gumbo is a mix of various ingredients. And no two people make it the same way.
To "make a gumbo" means much more than cooking. When someone says "I'm making a gumbo," it means family and friends are invited.
I invite you to join this POTLUCK PARTY every Sunday night.
Bring whatever mix of ingredients you'd like.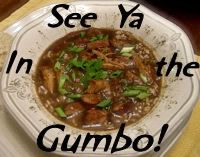 Featured entries:
Your post will be linked, along w/ a picture on this site
Your post and picture will be Pinned here
Your post and picture will be shared on google+
Last week's features:
Southern Red Beans & Sausage
from Drick's Rambling Cafe
Last week's

top-viewed link

was some good ole Southern food, yall.
Italian Lemon Shrimp
from White Lights on Wednesday
An easy, fresh lemony pasta from Julie.
Crispy Baked Sweet Potato Fries
from Bizzy Bakes
These bakes sweet potato fries have a special coating to make them crispy.
My picks of the week:
Stuffed Filet Mignon w/ Sherry Mushroom Sauce
from Cajun Delights
This will be dinner very soon.
Chocolate Mint Cake
from Memories by the Mile
Nothing like ending with a big slice of chocolate cake!
* Please link your post, not your homepage.
* In your post, please link back to my site or add a button.
* Try to visit 2 or more participants

* Food-related posts only, please.