Last year around Easter,
I teased you
with my favorite Easter candy--Gold Brick Eggs.
But ya know what?
Elmer Chocolate
(Ponchatoula, LA) isn't a one-trick chocolatier. Oh, no, ma'am.
They make gooey, sticky pecan eggs that were added to our Easter baskets...just for mom. Elmer also makes Heavenly Hash, which has been around since 1923 and is described as "Little bites of Heaven on Earth."
Heavenly hash is a mix of almonds and marshmallow coated in smooth chocolate. Like Gold Brick Eggs (my favorite) and Pecan Eggs (mom's favorite), it wouldn't be Easter without Heavenly Hash.
Elmer's distribution is along the Gulf Coast.
So what if you don't live along the Gulf Coast?
Not to worry, cher. Heavenly Hash can be had in cake form.
This cake tastes surprisingly similar to the candy.
Heavenly Hash Cake
adapted from
Cooking With Cajun Women
by Nicole Denee Fontenot
2 tsp vanilla
2 cups sugar
2 sticks butter, melted
4 eggs, slightly beaten
1 1/2 cups self-rising flour
4 Tbsp unsweetened cocoa powder
1/2 c almonds
1 package (10.5 oz) mini marshmallows (you may not use the entire package)
icing:
1 lb powdered sugar
4 Tbsp cocoa powder
8 Tbsp evaporated milk
4 tbsp melted butter
Preheat oven to 350.
Mix the first four ingredients. In a separate bowl, whisk together the self-rising flour and cocoa powder. Then stir in the almonds. Add the flour mixture to the first mixture. Mix gently; don't beat. Pour into a greased 13" x 9" pan. Bake for 30-35 minutes. Have the icing ready and warm for when the cake is done. Remove the cake from oven and immediately cover with marshmallows. Pour the icing over the marshmallows.
To make the icing: Heat the powdered sugar, cocoa powder, evaporated milk, and butter, whisking out any lumps. Pour over the marshmallows while icing is still hot.
Linking with Cookbook Sundays @ Couscous & Consciousness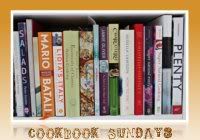 Cooking With Cajun Women
, published in 2002, is filled with recipes you'd find Cajun home cooks making for their families. The author, Nicole Denee Fontenot, selected recipes as well as nostalgia from Cajun women who grew up in the early Twentieth Century. Some of their stories are hilarious. All of them offer a glimpse into Cajun lifestyles during this time. This book contains classic Cajun recipes as well as quick and easy shortcuts implemented by young housewives raising large families.
See Ya In the Gumbo potluck #25 can be found HERE
~~ P
lease vote for Ms. enPlace for
The VoiceBoks Top 10 Foodie Blog of 2012.
Thanks! ~~
Voting ends April 13th.
Linking this week with: