Please vote for Ms. enPlace for
The VoiceBoks Top 10 Foodie Blog of 2012.
Thanks!
Voting ends April 13th.
See ya in the gumbo!
My great grandpa said this instead of "good-bye." It means see ya out there in the mix.
Gumbo is a mix of various ingredients. And no two people make it the same way.
To "make a gumbo" means much more than cooking. When someone says "I'm making a gumbo," it means family and friends are invited.
I invite you to join this POTLUCK PARTY every Sunday night.
Bring whatever mix of ingredients you'd like.
Thanks to all who have been linking! It was exciting to type "25" today. Thank you for making that happen.
All featured entries will be Pinned here.
Last week's top-viewed links:
Creamy Onion-Garlic Salmon
from Bookcase Foodie
Can you believe this creation was made with ingredients needing to be used up?
Spinach Florentine Pasta Bake
from The 21st Century Housewife
This looks so lovely and elegant. Could be in a magazine!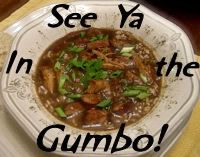 * Please link your post, not your homepage.
* In your post, please link back to my site or add a button.
* Try to visit 2 or more participants
* Food-related posts only, please

.
You have voted! See Ya In the Gumbo will be held year-round.