Thanks to all who linked up with Garden Variety Wednesday #2!
Link up with GVW #3 below!
Hopefully more of you are experiencing warmer weather and your gardens are taking off.
I am from gardeners. Dirt stained hands. Worn, holey knees. My great-grandpa turned his second lot into a vegetable garden. Great-grandma cooked whatever he pulled, picked, or dug. He worked his garden well into his 80s. He always had the itch--had it bad. He was a country boy with a Cajun accent so heavy I often had him repeat himself. He moved to the city for work. But in his garden, especially once the rows of corn grew, the city faded away. His daughter, my grandma (House to my regular readers), also has the gardening itch. She has a fondness for growing miscellaneous peppers, which my grandpa turned into pepper jellies and relishes. She doesn't grow edibles much anymore; potted ferns and flowers are now her calamine lotion.
My dad has always had a large garden as well. With no kids at home, he's expanded. And has plans to rip up even more lawn in favor of vegetables. Though not related by blood to great-grandpa and House, my dad has the itch too. As a little girl, I remember dad coming home from work and going straight to the garden to weed, harvest, water. I knew it had been a particularly bad day if he pulled up a lawn chair to sit while drenching the plants with the hose.
At three, dad let me pick out a tree for the yard. I chose a peach. A Charlie Brown peach purchased from a grouping of other Charlie Brown trees on display in a local grocery store. Not expecting the tree to live, dad set me loose. I picked the spot--the exact center of the backyard. That puny tree grew and grew some more. It was a hangout for a little hoot owl one spring. It provided us with many years of some of the juiciest, sweetest peaches I've had the pleasure of eating. And a helluva problem when we wanted to host neighborhood baseball games. Built in shortstop.
My dad eventually forgave my landscaping mistake and appointed me head landscaper of the front yard. Holy moley. Once again front and center. We went to the nursery. I picked giant, fragrant, deep pink girly roses. Dad eyed 6 packs of Dusty Miller...and got his way since he was paying. I countered with girly pink azaleas.
Small, Charlie Brown azaleas. History does repeat itself. So do I.
The roses were quickly attacked by aphids and that was a real drag. I was 12 or 13 and didn't have time for this mess. But I also couldn't let dad down. I went out daily with a squirt bottle, shooting teeny aphids with soapy water. I developed a perverse pleasure in my mass murders.
One day while suffocating aphids and pulling weeds--butt to the world, I broke a branch from an azalea. Considering the plant only had a few branches at the time, I panicked. A favorite phrase of dad's squeezed my heart: you're in deep doo-doo. Every child knows this feeling. The lose-lose choice you're faced with. Come clean or hide.
I hid.
I snatched the broken branch and shoved it down through the mulch into the soil. Up close to the plant. No one would ever know. And no one ever did. Several weeks later, I checked on my tell-tale-heart. Inhaled and gave a little tug. Expecting it to wither and turn to dust right there in my hand. But it didn't move. I brushed pine bark aside. Carefully scooped soil away with my fingertips. And found that the scene of my crime was no longer dressed in blinding yellow tape, flaunting my ineptitude. The branch (no more than a 6 inch twig that dad wouldn't have given a second thought to) had rooted.
Let me tell you, this was the feeling of creating life. I felt magic. I felt divinity. I felt power.
I felt the itch.
~~~~~~~~~~~~~~~~~~~~
A friend of mine, Rachel, pan roasts vegetables when it's too hot to run the oven. She started with broccoli and moved on to other vegetables. I used her method with carrots--a vegetable I've never really liked except raw. I'm hooked! I love adding fresh thyme (herb gardening is now "my thing.") to the carrots, but a few pinches of dried thyme also works.
So simple...
Tip: The carrots roast faster (and who wants to wait on a side dish) and are more elegant looking when thinly cut.
Roast carrots, seasoned with salt and pepper, in olive oil on the stove top until tender and browned in spots. About 20-30 minutes. Sprinkle in the thyme just before serving and toss.
Printer Friendly
Pan Roasted Carrots w/ Thyme
inspired by Rachel (burns_toast)
8 carrots
1 1/2-2 Tbsp olive oil
salt and pepper to taste
1 1/2-2 tsp fresh thyme or a few pinches of dried thyme
Cut the carrots in half. Halve again lengthwise. Then cut each piece in half or in quarters (lengthwise again) depending on how fat your carrots are.
Heat oil in a skillet large enough to place the carrots in one layer.
When oil is hot, add the carrots and season with salt and pepper. Pan roast over medium low for 20-30 minutes, until the carrots are tender and browned in spots.
If using dried thyme, add it the last 5 minutes of cooking. If using fresh add just before serving, toss, and heat through.
About 4 servings.
Linking up this week with:
Make a Food-"e"-Friend Monday
Tuesdays at the Table
Hearth and Soul
Delectable Tuesday
Tip Day Thursday
Fresh, Clean & Pure Friday
Potluck Friday
~~~~~~~~~~~~~~~~~~~~~~~
GARDEN VARIETY # 3
Made a dish with something you nurtured in your garden?
Maybe a neighbor stopped by and shared some of his/her harvest?
Have baskets of goodies from a pick-your-own farm?
Found some treasures at your local farmer's market?
Share your recipes and ideas using fresh produce here!
* In your post, link back to Ms. enPlace or grab a Garden Variety Wednesday button and add it to your post.
* Link your post--not your home page.
* Please, one link per person.
* Since growing seasons differ so much even across the US, old/archived posts are welcome, but please edit with a link back or a button.
* Have fun visiting other blogs!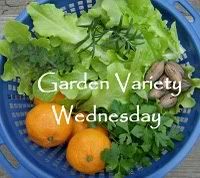 Garden Variety Wednesday schedule:
April 27 July 13 & July 27
May 11 & May 25 August 10 & August 24
June 8 & June 22