Last fall I told The Husband I wanted to put in a bed for greens.
Madam Chloe must have thought I said "bed for a queen."
So proper. So regal.
So in trouble.
Because she struck a pose much like this one on top of my spinach seedlings.
So much for the spinach plants. But w
e did get several nice batches of leaf lettuce. I guess spinach makes for a more comfortable bed than lettuce. Didn't know that.
While we had to buy spinach for this Citrus Spinach Salad (and construct a hasty fence around the "queen's greens bed"), I was able to use green onion from the garden, substitute our backyard satsumas for the oranges, and sub pecans The Boy collected from our tree for the almonds. We also made a second round of salads using a mix of lettuce that survived the dog's sun-drenched power naps along with the spinach.
We preferred the mix of spinach and lettuce--more variation in texture and flavor.
I love the dressing for this salad--the cinnamon really makes it...and makes it unusual. I also like the pungency of the green onions contrasted with the sweet satsumas (or oranges). And the crunch from the nuts ain't too shabby either.
While satsumas don't need to be segmented (they do this naturally), grapefruit and oranges do. Here's a step-by step on how to segment citrus.
This recipe comes from a friend/former co-worker. Not sure about the original source.
Printable Recipe
Citrus Spinach Salad
For the dressing:
2 Tbsp olive oil
1 Tbsp white wine vinegar
1 Tbsp fresh grapefruit juice if you like tart, or the same amount of orange or satsuma juice if you like sweet
1/2 tsp sugar
1/2 tsp orange or satsuma zest
salt and pepper to taste
1/8-1/4 tsp cinnamon

Whisk ingredients together in a small bowl. Cover and chill until ready to serve.

For the salad:

4 cups fresh baby spinach, or 2 cups spinach and 2 cups leaf lettuce
1 grapefruit, peeled and segmented
1 orange or satsuma, peeled and segmented
2 Tbsp finely chopped green onion
1/4 cup sliced almonds (I use chopped pecans)

Add spinach and lettuce, if using, along with the citrus and green onion to a salad bowl. Toss with enough dressing to coat the leaves. Sprinkle in nuts and toss again.
This week, I'm linking up with: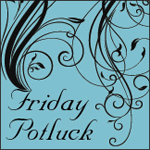 ~~~~~~~~~~~~~~~~~~~~~~~~~~~~~~
Now for

Garden Variety Wednesday #2!
Share your recipes and ideas using fresh produce here!
* Please, one link per person.

* Since growing seasons differ so much even across the US, old/archived posts are welcome, but please edit with a link back or a button.

* Have fun visiting other blogs!
Garden Variety Wednesday schedule:
April 13 & April 27 July 13 & July 27
May 11 & May 25 August 10 & August 24
June 8 & June 22