Let's be honest.
When you cook at home, you talk to yourself. Pretending to have your own cooking show. Yes, yes, darlin'. I know all about it.
I admit that whenever The Next Food Network Star (

which I have a love/hate relationship with

) comes around, I get caught up. I think if that were me, this is what my show would be about. If that were me, I'd totally nail that challenge. If that were me, this is what I would have made.
And I may or may not "practice" an episode or two in my own kitchen. Of course, it's easy to hammer out a pretend cooking show while slugishly sitting on the couch watching someone else go through the proverbial ringer. I don't really think I could cut it.
And I know Chopped is definitely out. Never mind the fact that I'm not a real chef. One minute into the appetizer challenge, I'm Captain Caveman. Only with more screaming and flailing. And cursing.

from Google Images
I recently realized that one of our favorite pasta dishes, Penne w/ Red Pepper Sauce, is from none other than Scott Conant. (Another favorite is his Gemelli w/ Sweet Sausage & Spinach) Yes. That Scott Conant. Stubbly-faced Chopped judge Scott Conant.
So when I was in my kitchen doing my pretend cooking show thing...umm I mean cooking this pasta dish, I couldn't help imagine what Judge Scott Conant would say. After all, I've jacked with his recipe. No recipe is immune from my awesome powers of cheaping out making do). Sassy enough to use dried basil because my plants aren't big enough yet and I'm not paying for fresh. Defiant enough to say "yeah, right" to homemade tomato sauce when I have several cans in the pantry. Ballsy enough to switcharoo cooking the peppers and onions because I find the peppers take longer.
Sassy, defiant, and ballsy himself, my pretend stint being judged by Chef Conant just got pretty darn ugly.
But this dish is not ugly. So make it.
Note: I will extend a pretend olive branch to Chef Conant and concede that the Pecorino Romano should not be replaced with another cheese (although I've certainly tried). It really honest-and-for-true is the perfect cheese for this dish.
Mise en place:
penne, olive oil, red bell peppers, onion, capers, crushed red pepper, red wine vinegar, dried basil, tomato sauce, salt & pepper, Pecorino Romano
Sure, it's easier & faster to chop. But one of the things I like about this recipe, visually, are the long strips of peppers and onions.
I like to start the peppers first, even though the original recipe start with the onions. I can't ever seem to get my peppers sliced as thin as the onions. So they take longer.
The peppers and onions are cooked until they start to brown. It takes a bit of time, but it adds so much to the pasta.
If you pay attention to nothing else about this recipe,
consider this tip:
When adding the red wine vinegar to the hot pan, step away ASAP.
Far away.
The vinegar fumes will knock you to the next block.
Linking this week with: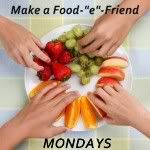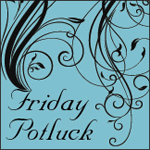 Printer Friendly

Penne with Red Pepper Sauce
Slightly adapted from Food & Wine Magazine/ Scott Conant

3/4 lb penne pasta
1/4 c olive oil
2 red bell peppers, cored, seeded, and thinly sliced lengthwise
1 large onion, thinly sliced lengthwise
1 Tbsp capers
1/2 tsp crushed red pepper flakes
1/4 c red wine vinegar
1 (8 oz) can tomato sauce
1 Tbsp dried basil
salt & pepper to taste
grated Pecorino Romano for topping

Cook the pasta in salted water until al dente. Reserve about 1 cup of the pasta water. Drain the pasta.

While the pasta cooks, heat olive oil in a large skillet. Add the peppers and cook over medium to medium high for 7-8 minutes, or until softened. Add the onions and cook 10-12 minutes, until the onions and peppers start to brown in spots.

Add the capers and red pepper flakes and stir. Add the vinegar and quickly move away from the fumes (unless you like that sort of thing). Cook until the vinegar is almost evaporated. Add the tomato sauce and basil and simmer 5-10 minutes.

Add the penne and pasta water. Season to taste with salt and pepper (remember that the pasta water is salted). Cook for a couple of minutes to thicken. Serve generously topped with Pecorino.