*~*~*
Welcome to See Ya in the Gumbo
*~*~*
My great grandpa said See ya in the gumbo!
instead of "good-bye."
It means see ya out there in the mix.
Gumbo is a mix of various ingredients.
And no two people make it the same way.
To "make a gumbo" means much more than cooking. When someone says "I'm making a gumbo," it means family and friends are invited.
I invite you to join this POTLUCK PARTY every Sunday night.
Bring whatever mix of ingredients you'd like.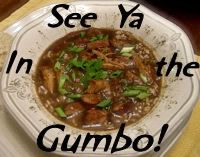 Top Five Features
(based on your clicks)
**Top-viewed**
Zucchini Casserole (Low Carb)
from
Best of Long Island and Central Florida
**Top-viewed**
Spinach Kugelette
from
Bizzy Bakes
Ranch Biscuits
from
My Turn (for us)
Unique Cheesecake with Homemade Cheese
from Something Sweet:
Winnie's Blog
Dirty Rice and Beans ( Cuban Moros)
from
Gluten Free A-Z Blog
I liked...
Pink Moscato Lemonade
from Julie's Eats and Treats
Mimosa Spritzer
from
A Night Owl
The Boy liked...
Mississippi Mud Cake
from
Sweet Bella Roos
Banana Soft Serve
from
With a Blast
My Grandmother's Hershey Pie ~aka S'more Pie
from
French Press
The Husband liked...
Brownie Bottom Chocolate Cheesecake
from
Love Bakes Good Cakes
Peanut Butter Cup Bars
from
With a Blast
* Please link your post, not your homepage*
* Link back or add my button if you'd like*
* Try to visit 2 or more participants*
* Food-related posts only, please*
Notice:
If you are featured
1. Your post will be linked along with a picture on this site
2. Your post and a picture will be pinned to the
See Ya In the Gumbo Potluck--Featured Recipes
board
3. Your post and a picture will be shared on
Google+