Welcome to See Ya in the Gumbo
Potluck Party
My great grandpa said See ya in the gumbo!
instead of "good-bye."
It means see ya out there in the mix.
Gumbo is a mix of various ingredients.
And no two people make it the same way.
To "make a gumbo" means much more than cooking. When someone says "I'm making a gumbo," it means family and friends are invited.
I invite you to join this POTLUCK PARTY every Sunday night.
Bring whatever mix of ingredients you'd like.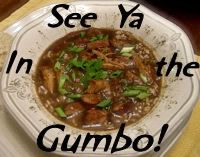 Featured entries are:
linked (w/ a picture) on this site
Pinned here
shared on Google+
Top Five Features
(based on your clicks)
**Top-viewed**
Fudge Pecan Pie
from
Diary of a Recipe Collector
**Top-viewed**
Fried Cheddar and Olive Finger Sandwiches
from
Little Joy Factory
Eggplant in Garlic Sauce
from
Gluten Free A to Z
Cherry Pecan Bacon Cheese Ball
from
Turnips 2 Tangerines
Chinese Fried Rice
from
Shari Blogs – All Things Sweet & Delicious
My picks of the week:
Along with the Fudge Pecan Pie (above),
two other pecan pies were linked last week.
Pecan Pie is one of my favorite desserts.
Chocolate Bourbon Pecan Pie
from Bakewell Junction
Bourbon Pecan Pie
from
My Turn (for us)
The Boy's picks of the week:
Pumpkin Cookies
from Live a Sweet Life
French Onion Soup
from
Frugal in Florida
Bolognaise Meatballs & Mozzarella Subs
from
With a Blast
* Please link your post, not your homepage*
* Link back or add my button if you'd like*
* Try to visit 2 or more participants*
* Food-related posts only, please*