Summertime is smoothie time for me. Cold and packed with fruit, they're usually my breakfast just about everyday.
I'm excited to tell you that over the next 3 weeks I'm featuring smoothies from some of my favorite blogs.
Be sure to visit the links for recipes.
This week is all about
Classics & Favorites
.
is a classic,
combining banana, strawberries, and blueberries.
It's so thick, it can double as dessert.
also includes classic smoothie ingredients, but there's also mango to give a tropical feel.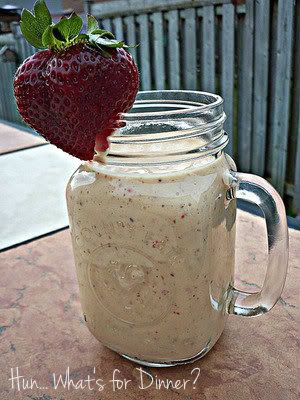 would be a favorite with my son--his favorite flavors are vanilla and cherry.
Jamie features recipes that are easy on mom and kid-approved. I think a lot of us can appreciate that!
Cowboy Spaghetti
and
BBQ Bacon Cheeseburger Flat Bread Melts
are both family-friendly meals.
Chili Cheese Dog Nachos
are just plain fun. A lot of Jamie's creations are!
@ Cajun Delights
This classic fruit combo is also Marguerite's favorite.
You'll always pass a
bon temps
at Cajun Delights with video clips of Cajun & Zydeco music that will get you movin'. Marguerite's recipes right out of South Louisiana will make you hungry...like
Crab and Shrimp Etouffee
and
Cajun Baked Ham w/Sugar Cane -Bourbon Glaze
. I tried
Stuffed Filet Mignon w/ Sherry Mushroom Sauce
for Valentine's Day. Ca c'est bon!
Couldn't have it without ya!
Stay tuned next week for another smoothie theme.
is a favorite in my kitchen.
Dark fruit like blackberries and blueberries are my favorites, so why not combine them in a smoothie?
I wish I could say I invented this smoothie, but it comes from
Smoothies: 50 Recipes for High-Energy Refreshment
by Sara Corpening Whiteford, Lori Lyn Narlock, Mary Corpening Barber and Amy Neunsinger.
Printer Friendly

Black Beauty Smoothie
from
Smoothies: 50 Recipes for High-Energy Refreshment
Makes 2 servings
1 cup low-fat vanilla yogurt
about 1/2 cup grape juice
1 1/2 cups frozen blueberries
1 cup frozen blackberries
Combine the yogurt and 1/2 cup grape juice in a blender. Add the berries. Blend until smooth. Blend in more grape juice if smoothie is too thick.
Linking with
: