See ya in the gumbo!
My great grandpa said this instead of "good-bye." It means see ya out there in the mix.
Gumbo is a mix of various ingredients. And no two people make it the same way.
To "make a gumbo" means much more than cooking. When someone says "I'm making a gumbo," it means family and friends are invited.
I invite you to join this POTLUCK PARTY every Sunday night.
Bring whatever mix of ingredients you'd like.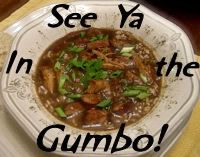 All featured entries will be Pinned here

and shared on google+
Last week's features:
Canadian Meat Pie
from Love Bakes Good Cakes
Made with beef, pork, and spices, Jamie describes this pie as "winter food."
Sour Chickpeas
from Couscous and Consciousness
Sue says this dish may have the "dreaded brown food syndrome" as far as pictures go, but taste is a different story.
Martha's Dark Hot Chocolate Mix
from The Kitchen Cookie
There's a surprise ingredient in this mix, making Martha's hot chocolate thick and rich.
And my pick of the week:
Fried Mee Suah (Chinese Flour Vermicelli)
from Kitchen Flavors
Joyce not only explains how to make these fried noodles, she shares what these noodles mean in Chinese culture.
* Please link your post, not your homepage.
* In your post, please link back to my site or add a button.
* Try to visit 2 or more participants

* Food-related posts only, please.