See ya in the gumbo!
My great grandpa said this instead of "good-bye." It means see ya out there in the mix.
Gumbo is a mix of various ingredients. And no two people make it the same way.
To "make a gumbo" means much more than cooking. When someone says "I'm making a gumbo," it means family and friends are invited.
I invite you to join this POTLUCK PARTY every Sunday night.
Bring whatever mix of ingredients you'd like.
Thank you for linking!
All featured entries will be Pinned here.
Last week's top-viewed links:
Cheddar Burgers with Caramelized Onions, Bacon and Sauce
from Just a Frugal Foodie
Now this is how to do a burger!

Garlic and Herb Gnocchi
from White Lights On Wednesday
Julie describes this dish as "happy food." I agree.
Cioppino
from Recipe Addict
Beautiful dish, loaded with seafood.
Roasted Root Vegetables
from My Sweet and Savory
A tasty platter of vegetables and a Meatless Monday link-up.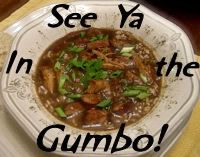 * Please link your post, not your homepage.
* In your post, please link back to my site or add a button.
* Try to visit 2 or more participants

* Food-related posts only, please.