We're in the final stretch at I Heart Cooking Clubs. Roughy two months left with Tessa Kiros.
I've enjoyed her food so much that I decided to go big for
Potluck Week
. Pulled out one I've been dying to try, but haven't found the time.
Because I decided my time cooking from Tessa Kiros' Food From Many Greek Kitchens wouldn't be complete without a huge Greek feast.
And feasts take time to prepare, my friends.
Time as in all day.
Time as in this is the only meal I'm cooking today.
But everyone enjoyed this pigged out (let's just be honest here) so much that they didn't notice supper was never made.
Kebabs from Tessa Kiros
Our feast consisted of Cucumber Meze and Lemon Roast Potatoes--both will be featured at later dates.
And continued with filling Tessa Kiros's pita bread (which we're in love with) with homemade hummus, Tessa Kiros's Kebabs (which may be our favorite so far), tomato, and a lovely fresh salad of red onion and parsley.
This entire meal was truly a winner. Lots of lemon from the cucumbers, potatoes, and kebabs, lots of garlic from the hummus. Lots of just plain good.
Happy plates for all.
Still hungry? There's a potluck going on...
Also linking with Cookbook Sundays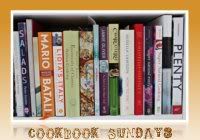 Printer Friendly
Kebab

adapted from Tessa Kiros's
Food From Many Greek Kitchens

1 pound ground pork
1/2 lb ground beef
1 small red onion, grated
2 TBSP chopped parsley
1/2 tsp dried oregano, crushed
a sprinkle of ground cumin
salt and pepper to taste
juice of 1/2 lemon
for serving:
pita bread
1 small red onion, sliced in rings
handful chopped parsley
paprika
crumbled feta
chopped tomato
hummus
Mix the ingredients--ground pork through lemon juice--in a large bowl. Divide into 8 portions. Shape each portion into a tightly packed sausage about 6" long. (If using skewers, tightly pack the meat mixture around 8 metal skewers.) Place in the fridge to firm up while you prepare a grill for high heat.
Combine the onion rings and parsley. Place on a small platter and dust lightly with paprika. Prepare the rest of the ingredients for serving, having them ready for when the meat is done.
Grill the meat until crusty and slightly charred on the outside, but moist on the inside and cooked to desired doneness.
Serve in pitas with onion-parsley salad, chopped tomato, hummus, and a shake or two of paprika.