New Year's Jambalaya
or Black Eyed Pea Jambalaya
Weird, right? Well, that's what I thought when I came across this recipe in VOILA! Lafayette Centennial Cookbook 1884-1984 . I HAD to make it even if it sounded strange.
Ok...ok. So this dish isn't really uncommon if you break it down. It's pretty much Hoppin' John. But Hoppin John isn't something South Louisiana folk are familiar with. It's called black eyed pea jambalaya here. And this type of jambalaya isn't one I ever had growing up.
All that's part of why I had to make it. I have this habit of saying, "that's so weird, I have to try it." It's like spying roadkill from a distance. Even though I know it's probably best to look the other way, I can't help it--I have to look as I drive by. Figure it out even. The Husband and I play this game. A game called "eeew, what the heck was that?" We live in a rural area. It passes the time when we go to town.
And now that you know that little factoid about me...wait...don't go!
Also, my grandma taught me to eat my black eyed peas and cabbage on New Year's Day so I'd have good luck during the year. And I always listen to my grandma. (
Need some cabbage
to go with your black eyed peas?)
~~~~~~~~~~~~~~~~~~~
The original recipe contains chunks of pork--pork chunks and ham are two things I don't much enjoy in jambalaya. So I stuck with my trusty smoked sausage. Next time I make this, I might decide to add chicken too.
We were surprised by this recipe. Or I guess I should say I was. The Boy didn't give it a second thought. If The Husband thought black eyed pea jambalaya was weird I'll never know. He thought the black eyed peas added a nice creamy texture and liked that. After the first bite, he kept saying, "this is good" and "make this again." I will. Even on days other than New Year's Day.
Whatever the type, jambalaya has a lot going on and a lot of chopping. But the chopping can be done ahead of time.
You'll need:
1 lb smoked sausage, vegetable oil, onion, bell pepper, celery, garlic, green onion and/or parsley, chicken stock, water, pimiento, salt, pepper, Tony's, cayenne, rice, black eyed peas
Brown the sausage in vegetable oil.
I should have browned mine more.
This jambalaya, like all brown jambalayas, gets its color from browning the meat. The more color on the meat, the deeper color your jambalaya will have.
Add the onion, bell pepper, celery and cook until softened. Then add the garlic and cook a few minutes longer.
Next, all the seasonings go in the pot along with the pimiento--which is really just for color if you ask me.
It doesn't add much flavor.
Bring to a boil and add rice.
Then add the black eyed peas.
All that's left is the simmerin'.
A couple of notes:
1. When working with canned beans, I always drain and rinse them. I'm not crazy about bean sludge.
2. Some jambalaya recipes, like this one, have you add the rice to the liquid. Some have you saute the rice a few minutes, coating it with whatever fat you've used. Then the liquid is added to the pot. I tend to prefer the second method and will do that next time.
Right before serving, add the parsley and/or green onion.
Pass da hot sauce at da table, cher.
Also linked to:
Friday Potluck @ EKat's Kitchen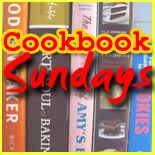 Printer friendly recipe
New Year's Jambalaya
adapted from Viola! Lafayette Centennial Cookbook - 1884-1994
by Jean Durkee
1 pound smoked sausage, sliced 1/4-inch thick
1Tbsp vegetable oil
1 large onion, chopped
1 green bell pepper, chopped
1-2 stalks celery, chopped
3-4 cloves garlic, chopped
1 cup water
1 cup chicken or beef broth
1 teaspoon salt, or to taste
1/4 teaspoon black pepper
1/4 teaspoon red pepper
1/2 Tony's Creole seasoning
2 tablespoons minced pimiento
1 cup uncooked rice
1 (16 ounce) can black-eyed peas with jalapenos, drained
1/3 cup chopped parsley
1/3 cup chopped green onion
In a heavy 4-quart pot, brown sausage in vegetable oil over medium to medium high heat. Add onion, bell pepper and celery. Cook until tender. Add the garlic and cook a few more minutes.
Add water, broth, seasonings, and pimiento. Bring mixture to a boil. Add rice, stir, and add black-eyed peas. Lower to a simmer, cover, and cook 30-40 minutes or until rice is cooked and liquid is absorbed. Add parsley and onion tops the last 5 minutes.