*~*~*
Welcome to See Ya in the Gumbo potluck!
*~*~*
My great grandpa said See ya in the gumbo!
instead of "good-bye."
It means see ya out there in the mix.
Gumbo is a mix of various ingredients.
And no two people make it the same way.
To "make a gumbo" means much more than cooking. When someone says "I'm making a gumbo," it means family and friends are invited.
I invite you to join this POTLUCK PARTY every Sunday night.
Bring whatever mix of ingredients you'd like.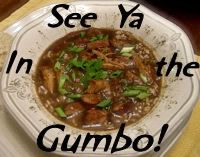 Top Five Features
(based on your clicks)
**Top-viewed**
Chocolate Chip Cookie Cannoli
from
King's Bakery and Cooking
**Top-viewed**
Cheesy Salsa Dip
from
Just North of Wiarton & South of the Checkerboard
Cajun Cabbage
from
Miz Helen's Country Cottage
Lighter Chicken Tetrazzini
from
The 21st Century Housewife
Swiss-Roll Cake with Apple and Poppy filling
from
Something Sweet: Winnie's Blog
I liked...
Falafel with Tahini Flatbreads
from
Couscous & Consciousness
Strawberry Muffins with Strawberry Cream Cheese Spread
from
Easy Life Meal and Party Planning
The Boy liked...
Elvis Donuts
from
Love Bakes Good Cakes
Raspberry and White Chocolate Cheesecake
from
Creative and Delicious
Coconut Banana Chia Chocolate Snack Cake
from
Jenn's Random Scraps
The Husband liked...
Slow Cooker Brazilian Curry Chicken
from
This West Coast Mommy
* Please link your post, not your homepage*
* Link back or add my button if you'd like*
* Try to visit 2 or more participants*
* Food-related posts only, please*
Notice:
If you are featured
1. Your post will be linked along with a picture on this site
2. Your post and a picture will be pinned to the
See Ya In the Gumbo Potluck--Featured Recipes
board
3. Your post and a picture will be shared on
Google+