*~*~*
Sunday means Gumbo time!
*~*~*
My great grandpa said See ya in the gumbo!
instead of "good-bye."
It means see ya out there in the mix.
Gumbo is a mix of various ingredients.
And no two people make it the same way.
To "make a gumbo" means much more than cooking. When someone says "I'm making a gumbo," it means family and friends are invited.
I invite you to join this POTLUCK PARTY every Sunday night.
Bring whatever mix of ingredients you'd like.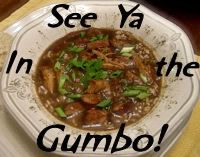 Top Five Features
(based on your clicks)
A tie for top-viewed this week
**Top-viewed**
Salted Chocolate Pecan Pie
from
Adventures in Life with Great Food
**Top-viewed**
**Top-viewed**
Caesar Chicken Salad Waffle Sandwiches
from
Jo & Sue
**Top-viewed**
Easy Frozen Strawberry Margaritas
from
Yesterfood
Southwest Skillet Dip
from
Miz Helen's Country Cottage
Turkey Chili
from A New York Foodie
As for me...
Layered Slow-Cooker Dinner
from
Creative and Delicious
Double Chocolate Raspberry Brownie Recipe
from
Couscous & Consciousness
As for The Boy...
Baked Mac 'n Cheese with Shrimp and Bacon
from Hun...What's for Dinner?
Chocolate Cherry Marshmallow Brownies
from
Love Bakes Good Cakes
Chocolate Covered Cherries
from
Margaret's Morsels
* Please link your post, not your homepage*
* Link back or add my button if you'd like*
* Try to visit 2 or more participants*
* Food-related posts only, please*
Notice:
If you are featured
1. Your post will be linked along with a picture on this site
2. Your post and a picture will be pinned to the
See Ya In the Gumbo Potluck--Featured Recipes
board
3. Your post and a picture will be shared on
Google+