My great grandpa said See ya in the gumbo!
instead of "good-bye."
It means see ya out there in the mix.
Gumbo is a mix of various ingredients.
And no two people make it the same way.
To "make a gumbo" means much more than cooking. When someone says "I'm making a gumbo," it means family and friends are invited.
I invite you to join this POTLUCK PARTY every Sunday night.
Bring whatever mix of ingredients you'd like.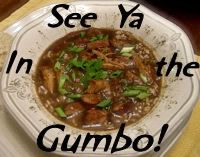 Featured entries are:
linked (w/ a picture) on this site
Pinned here
shared on Google+
Top Five Features
(based on your clicks)
**Top-viewed**
Quinoa & Vegetables Chinese Style
from
Gluten Free A-Z
**Top-viewed**
This is Judee's 2nd week in a row in the top spot!
High Springs Chicken (aka Aussie Chicken)
from Best of Long Island & Central Florida
Double Chocolate Zucchini Bread
from
Kitchen Flavours
Hatch Green Chile Verde
from The Friday Friends
Pumpkin Dinner Rolls
from
Jo and Sue
My picks of the week:
Leek Confit Frittata
from
A Kitchen Hoor
Limoncello and Blueberry Syllabub
from
The 21st Century Housewife
The Boy's picks of the week:
Rolo Banana Bread
from
Hun...What's for Dinner?
Maple Cornbread Muffins
from Yesterfood
* Please link your post, not your homepage*
* Link back or add my button if you'd like*
* Try to visit 2 or more participants*
* Food-related posts only, please*