My great grandpa said See ya in the gumbo!
instead of "good-bye."
It means see ya out there in the mix.
Gumbo is a mix of various ingredients.
And no two people make it the same way.
To "make a gumbo" means much more than cooking. When someone says "I'm making a gumbo," it means family and friends are invited.
I invite you to join this POTLUCK PARTY every Sunday night.
Bring whatever mix of ingredients you'd like.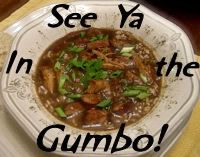 Featured entries:
Will be linked along w/ a picture on this site
Will be Pinned here
Will be shared on Google+
Your Top 5 from Last Week:
**Top-viewed**
Spicy Apricot Bacon Bites
**Top-viewed**
from Jo & Sue
Peach-Cilantro Vinaigrette w/ Spinach Salad
from
RV Life and Food
Baked Beans
from
Turnips 2 Tangerines
Pepper Jack Creamed Corn
from Bizzy Bakes
Buffalo Chicken Quesadillas
from
Love Bakes Good Cakes
My picks of the week:
Mediterranean Piccata
from
Memories By the Mile
Roasted Cauliflower & Almond Salad
from
Couscous & Consciousness
The Boy's picks of the week:
Banana Ice Cream
from
A Walk in the Countryside
Pumpkin Cheesecake Pie
from
Just North of Wiarton & South of the Checkerboard
Savoury Cherry Sauce
from
Carole's Chatter
In honor of my mom's birthday, which is Wednesday, I thought this cake round-up from Yesterfood would be fitting.
Happy Birthday, Mom!
* Please link your post, not your homepage.
* In your post, please link back to my site or add a button.
* Try to visit 2 or more participants.
* Food-related posts only, please.