See ya in the gumbo!
My great grandpa said this instead of "good-bye." It means see ya out there in the mix.
Gumbo is a mix of various ingredients. And no two people make it the same way.
To "make a gumbo" means much more than cooking. When someone says "I'm making a gumbo," it means family and friends are invited.
I invite you to join this POTLUCK PARTY every Sunday night.
Bring whatever mix of ingredients you'd like.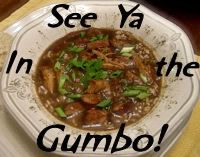 Featured entries:
Your post will be linked along w/ a picture on this site
Your post and picture will be Pinned here
Your post and picture will be shared on Google+
Last week's party was the biggest yet--3x the size from when I started. Thank you to everyone who linked up.
Your Top 5 from Last Week:
**Top-viewed**
Crawfish Monica
**Top-viewed**
from
The Mouth of the South
It is crawfish season, after all!
Cilantro Lime Chicken Chop Salad
from Y
our Home Based Mom
It's getting to be salad season too.
Key Lime Pie Dip
from
Jo & Sue
When it is ever not time for dip?
Down Home Grits Muffins
from Yesterfood
To a grits lover, I like that these muffins give me yet another to get my grits fix.
Almond Cheesecake Muffins
from Soup Spice Everything Nice
Almond cheesecake sounds great and I like the elegant presentation.
My picks of the week:


It's getting harder and harder to choose each week.
For this round, I was really feeling like cookies.
Healthy Delicious Orange Oatmeal Cookies
from
Just North of Wiarton & South of the Checkerboard
Honey, oatmeal, banana, orange, walnuts, and the list goes on. These cookies are packed with good things.
Cowboy Cookies (GF)
from
Losing Creek Farm
Finally, I couldn't pass up oatmeal and chocolate.
* Please link your post, not your homepage.
* In your post, please link back to my site or add a button.
* Try to visit 2 or more participants

* Food-related posts only, please.