While it's
potluck week
now, next week
I Heart Cooking Clubs
is hosting Kebab Week. I picked out a Madhur Jaffrey kebab recipe but didn't want to serve them on naan as suggested. The Husband has been low carbing it since October.
I needed something besides a plate of kebabs, lettuce, and onion.
Enter
Fresh Red Chutney w/ Almonds (Lal Chutney)
made with red bell pepper, mint, lemon juice, and almonds (in my case pecans).
This chutney is definitely "fresh" as the title says. The raw red pepper, mint, and lemon juice all provide fresh as well as refreshing qualities. At first I thought mint with red bell pepper might be strange, but it worked well. I can see why the hamburger kebabs (they'll come around next week) are traditionally served with the Fresh Red Chutney. The bright, crisp components of the chutney balanced out the spicy, heavy beef.
I really liked this whole plate and would make both the chutney and the kebabs again. The chutney would also work well with grilled steak, chicken, pork, and fish.
Recipe Box Linky @ Bizzy Bakes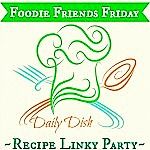 Printer Friendly
Fresh Red Chutney w/ Almonds (Lal Chutney)
from Madhur Jaffrey's Quick & Easy Indian Cooking
1/2 of a red bell pepper, deseeded and coarsely chopped
20 large mint leaves, coarsely chopped
2 Tbsp lemon juice
1 clove garlic, coarsely chopped
1/2 tsp chili powder
1/2 tsp salt (added to taste, used less)
fresh ground black pepper
1 Tbsp blanched, slivered almonds (Used pecans)
1 tsp dill, chopped (optional) (I skipped)
Blend red pepper, mint, lemon juice, garlic, chili powder, salt and
black pepper. Blend until smooth. Add nuts and blend again. Pour into
bowl and check seasoning. Add dill if you wish.