See ya in the gumbo!
My great grandpa said this instead of "good-bye." It means see ya out there in the mix.
Gumbo is a mix of various ingredients. And no two people make it the same way.
To "make a gumbo" means much more than cooking. When someone says "I'm making a gumbo," it means family and friends are invited.
I invite you to join this POTLUCK PARTY every Sunday night.
Bring whatever mix of ingredients you'd like.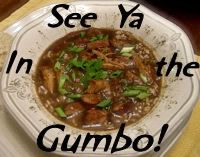 Featured entries:
Your post will be linked along w/ a picture on this site
Your post and picture will be Pinned here
Your post and picture will be shared on Google+
Last week's features:
**Top-viewed**
Cajun Chicken Alfredo
**Top-viewed**
from Cajun Delights
Marguerite's versatile spicy cream sauce can accommodate chicken, shrimp, or crawfish. Whatever suits you!
Orange Creamsicle Eclair Cake
from Jam Hands
Ali's delicious dessert features an eclair base, orange flavored pastry cream, whipped topping, and chocolate syrup. I don't think she left anything out!
Manburgers
from RV Life & Food
Terry says these Manburgers may replace her favorite Cream Cheese Burgers. On second thought, she has plans to combine both recipes.
Hamburg Soup
from Just North of Wiarton & South of Checkerboard
Cindy's soup is full of good-for-you vegetables, but I have to say it's that rich, dark color that catches my eye.
My pick of the week:
Spaghetti Casserole
from The 21st Century Housewife
Browned cheesy topping is always a winner with me.
And April's Star Trek reference didn't hurt either.
* Please link your post, not your homepage.
* In your post, please link back to my site or add a button.
* Try to visit 2 or more participants

* Food-related posts only, please.