See ya in the gumbo!
My great grandpa said this instead of "good-bye." It means see ya out there in the mix.
Gumbo is a mix of various ingredients. And no two people make it the same way.
To "make a gumbo" means much more than cooking. When someone says "I'm making a gumbo," it means family and friends are invited.
I invite you to join this POTLUCK PARTY every Sunday night.
Bring whatever mix of ingredients you'd like.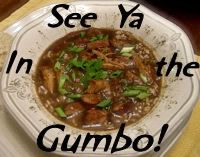 All featured entries will be Pinned here

and shared on google+
Last week's features:
Easy Cheesy Bread
from Milwaukee Kitchen
Sara took a recipe for cinnamon rolls made with frozen bread dough and ran with it. In a savory direction.
Chocolate Chip Chickpea Cookies
from Jo & Sue
Maybe you've heard of zucchini brownies. Spinach smoothies. Have you ever come across chickpea cookies?
White Chocolate Truffle Cheesecake w/ Almond Shortbread Crust
from The Kitchen Cookie
Martha is at it again with another stellar cheesecake.
And my pick of the week:
I couldn't pick just one...
Chocolate Peanut Butter Fun
from Memories by the Mile
I like the idea of chocolate and peanut butter together in fudge. Even more, I like that Wanda Ann has worked for years to get that just right recipe.
Crispy Onion Chicken Casserole
from The 21st Century Housewife
April's creamy casserole, with mushrooms and fried onions, would be great for a busy weeknight.
* Please link your post, not your homepage.
* In your post, please link back to my site or add a button.
* Try to visit 2 or more participants

* Food-related posts only, please.