It's Get Your Chef On time!
Thanks to Julie @
White Lights On Wednesday
and Jen @
Four Marrs, One Venus
for hosting.
Our ingredient for this round is a very seasonally appropriate one...

Cranberries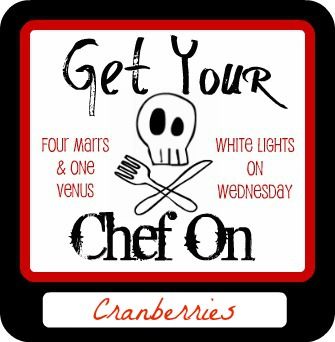 My entry for GYCO: Cranberries was inspired by my favorite trail mix.
I'm not into those fancy tropical, berry blend, or spicy mix packages.
I'm not all that into the energy or health mixes either.
Instead, I guess I prefer to sit around being lazy and doughy munching on a mix of
dried cranberries
pecans
dark chocolate chips
I mixed these ingredients into biscotti dough with a touch of cinnamon.
and
Printer Friendly
Trail Mix Biscotti
2 cups flour
1/2 tsp baking powder
1/2 tsp baking soda
1/2 cup sugar
1/4 tsp cinnamon
1/4 tsp salt
1 tsp vanilla
3 lightly beaten eggs
heaping 1/2 cup coarsely chopped dried cranberries
1/2 cup coarsely chopped pecans
1/2 cup dark chocolate chips
Melted white chocolate for garnish (optional)
Preheat oven to 350 F.
Mix the dry ingredients together in a large mixing bowl. Make a well in the center of the ingredients. Add the vanilla and beaten eggs to the well. Slowly stir the dry ingredients into the egg and vanilla. Stir in the cranberries and pecans--the dough will be thick and sticky. Once the cranberries and pecans are incorporated, fold in the chocolate chips, using your hands to knead the dough. Knead for a few minutes.
Divide the dough in half. Form each half into a log about 10" long and 2 1/2" wide. Place on a greased cookie sheet and bake about 20 minutes. Remove to a cutting board, cool slightly, then cut each log into 1 1/2" slices. Place the slices back on the cookie sheet and bake for another 15 minutes. After cooling, drizzle with melted white chocolate, if desired.
Also linking with: