See ya in the gumbo!
My great grandpa said this instead of "good-bye." It means see ya out there in the mix.
Gumbo is a mix of various ingredients. And no two people make it the same way.
To "make a gumbo" means much more than cooking. When someone says "I'm making a gumbo," it means family and friends are invited.
I invite you to join this POTLUCK PARTY every Sunday night.
Bring whatever mix of ingredients you'd like.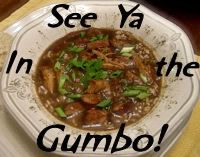 All featured entries from last week will be Pinned here.
Last week's top link:
Nana's Sausage Gravy
from Now Things Are Cooking
Nothing better than the food you grew up on.
More top-viewed links:
Spicy Vegetable Samosas
from Couscous and Consciousness
Sue says serve these with a salad and you have a meal. Or, make them small and pass around at a party. Either way, someone's having a treat.
Eat Yer Veggies Beer Cheese Soup
from Milwaukee Kitchen
The added veggies would make me feel less guilty about eating beer and cheese for dinner. Not that I wouldn't do that either...
Jalapeno & Cheese Baked Potato
from Losing Creek Farm
I have a special place for a post that starts out "
I just LOVE great globs of melted cheese." I guess yall do too--Jenny's spicy, cheesy potatoes round out this week's features.
* Please link your post, not your homepage.
* In your post, please link back to my site or add a button.
* Try to visit 2 or more participants

* Food-related posts only, please.