See ya in the gumbo!
My great grandpa said this instead of "good-bye." It means see ya out there in the mix.
Gumbo is a mix of various ingredients. And no two people make it the same way.
To "make a gumbo" means much more than cooking. When someone says "I'm making a gumbo," it means family and friends are invited.
I invite you to join this POTLUCK PARTY every Sunday night.
Bring whatever mix of ingredients you'd like.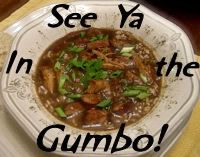 Before we get to last week's features,
let's find out who won
the Muy Bueno Cookbook
Tumbleweed Contessa
(winner was chosen using random.org)
Contessa, I will contact you
for mailing information
which will be forwarded to
the Muy Bueno cook-off host, girlichef.
All featured entries from last week will be Pinned here.
Last week's top links resulted in a three-way tie:
Indoor S'mores Bars
from Love Bakes Good Cakes
Doesn't matter what the weather's doing.
You can have S'mores any time.
Black Bean Salsa Soup
from Gluten Free A-Z
Vegan
, gluten free, inexpensive,
freezable and made in the slow cooker.
Surely one (or more) of the above got your attention.
Strawberries & Chocolate Mousse
from Tagana Rose
As if the strawberries and whipped cream weren't enough, this mousse is made with dark chocolate.
* Please link your post, not your homepage.
* In your post, please link back to my site or add a button.
* Try to visit 2 or more participants

* Food-related posts only, please.
Wish you would have won the Muy Bueno Cookbook?
This week my blog turns FOUR!
I will be giving away a cookbook (which one TBD)--the giveaway will start in a few days. As a thank you for participating in See Ya In the Gumbo, everyone who links this week will receive an extra entry in the giveaway.