See ya in the gumbo!
My great grandpa said this instead of "good-bye." It means see ya out there in the mix.
Gumbo is a mix of various ingredients. And no two people make it the same way.
To "make a gumbo" means much more than cooking. When someone says "I'm making a gumbo," it means family and friends are invited.
I invite you to join this POTLUCK PARTY every Sunday night.
Bring whatever mix of ingredients you'd like.
Thank you for linking!
All featured entries will be Pinned here.
Last week's top-viewed links:
Macaroni Salad
from Now Things Are Cooking
Laura put together a little of this and a little of that from her favorite salads to create a perfect blend.
Citrus Iced Tea
from The Kitchen Cookie
Martha shared a family recipe that is sure to cool you off. And probably make you crave more.
Chilled Carrot Ginger Soup
from Gluten Free A to Z Blog
Judee proves that soup can be enjoyed when it's hot and humid. Her Carrot Ginger Soup has both refreshing flavors and a refreshing temperature.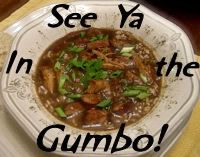 * Please link your post, not your homepage.
* In your post, please link back to my site or add a button.
* Try to visit 2 or more participants

* Food-related posts only, please.