See ya in the gumbo!
My great grandpa said this instead of "good-bye." It means see ya out there in the mix.
Gumbo is a mix of various ingredients. And no two people make it the same way.
To "make a gumbo" means much more than cooking. When someone says "I'm making a gumbo," it means family and friends are invited.
I invite you to join this POTLUCK PARTY every Sunday night.
Bring whatever mix of ingredients you'd like.
Thank you for taking the time to link up!
All featured entries will be Pinned here.
Last week's top-viewed links:
Capellini Pomodoro
from My Road to Savings
I can see why this was the most-viewed dish last week--it's perfect for summer. Fresh ingredients and very little cooking.
Cajun Memorial Day Menu
from Cajun Delights
Marguerite's holiday spreads never disappoint! Doesn't this burger look delicious?
Dutch Babies
from Law Student's Cookbook
Dutch Babies look like a lot of fun to make. They sure do bring a smile to my face.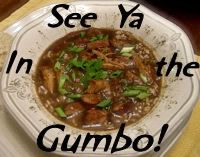 * Please link your post, not your homepage.
* In your post, please link back to my site or add a button.
* Try to visit 2 or more participants

* Food-related posts only, please.