Maybe you can relate? Sometimes you assault yourself with ideas for beautiful, classy food (ahem...hello, Pinterest). Food you'll most likely not make. Your cookbooks have over half the pages marked because something seemed like a good idea at the time. And time...time is exactly what's missing.
Maybe you have a manila folder crammed full of magazine clippings. Because the pictures made you say, "Oh, look. Shiny."
Maybe not.
And maybe, despite all of this, when the time comes to answer the "what's for dinner?" question...you got nuthin'. That's a story for another day.
Today's story is about my feelings on clutter. Piles make me cringe. Stacks disgust me. (Unless we're talking stacks of chocolate chip pancakes.) I just know those hoarding shows would make me pass out.
Every so often the stacks and piles, crammed and jammed, really get to me. Crossing things off a list and purging files make me crazy happy.
But.
I'm at a crossroads. Old enough to
know
I should learn my lesson about throwing things away willy-nilly. Yet still young enough to not actually do anything with this knowledge.
Except this time.
A recipe torn from a magazine survived several rounds of "I'm never going to make this." I've held on to that page for a few years. There was just something about it.
And that something is
Lemon & Thyme Syrup
.
Syrup that's not only great coating fruit, but syrup that adds
wow
to iced tea. Syrup that, I think, would be awesome drizzled over pound cake. Any cake.
Sweet with a punch from lemon peel and juice. Subtle, herby, woodsy flavor from the thyme.
So glad I didn't throw that page away.
Linking with
This post is also a part of
Get Your Chef On: Lemons
hosted by
White Lights On Wednesday
Four Marrs & One Venus
Look
here
for a listing of participating bloggers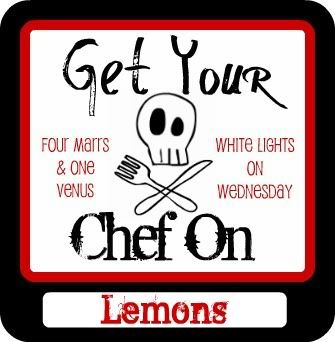 Printer Friendly
Melon-Berry Salad w/ Lemon & Thyme Syrup
adapted from Woman's Day Magazine, July 2009
1 scant cup sugar
1/4 c water
peel and juice from 1 large lemon
1 handful fresh thyme sprigs
1 cantaloupe
1 container strawberries
1 container blueberries
thyme leaves
Place the first 4 ingredients in a saucepan. Bring to a boil, then simmer for about 5 minutes. Remove from stove and allow to steep for 30-40 minutes. Strain to remove lemon peel and thyme. Allow to cool before using.
While the syrup cools, wash the fruit. Cube the cantaloupe; cut the strawberries.
Place about 1/2 cup cubed cantaloupe in each bowl. Toss in a small handful of strawberries and about 1/4 cup blueberries in a bowl. Drizzle about 1 TBSP syrup over the fruit. Stir gently. Garnish with thyme leaves. Repeat with remaining fruit and syrup, or store (separately) in the fridge. When using from the fridge, warm the syrup for a about 5 seconds in the microwave to make it spoonable.
Linking with: