~*See Ya In the Gumbo Potluck #19 can be found here*~
How did I ever survive using cookbooks without pictures?
Dramatic, I know. Some may turn to a certain chapter. Some might choose a recipe based on the title. Me...it's the picture. Every time. I think food blogs and Pinterest have spoiled me.
When I saw the picture for
Rombo alle Erbette (Fish Baked with Herbs)
in
Twelve
by Tessa Kiros, I made up my mind then and there. This would be my dish for the "
Lighten Up" theme @ I Heart Cooking Clubs
.
By the way, I find it hilarious (
and maybe even a little like I'm doing something wrong
)...I'm posting a "lighten up" dish on Mardi Gras eve. I made it weeks ago, knowing that the closer it got to Mardi Gras, the more "fattening up" I'd be doing.
The fish, herbs, and white wine poaching liquid all seemed light. Then I noticed the butter and flour.
But one thing you should know about me (if you don't already)...once I make up my mind, there's no turning back. Especially when I had that image from the cookbook in my head.
Notes:
I think I'll skip the flour next time. While it helped thicken the sauce, it did cause the sauce to have an odd texture. And the butter--well, it isn't
that
much.
I love cooking with herbs. Especially when recipes offer the chance to go out in the garden and grab handfuls of whatever I can easily reach. This recipe uses a mix of five different herbs, but Kiros suggests that you can "substitute any herbs you like." I wondered about mint with fish, but it worked.
Linking with:
Cookbook Sundays #12 at Couscous & Conciousness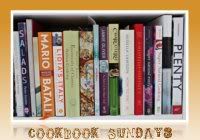 Printer Friendly

Rombo alle Erbette (Fish Baked with Herbs)
from
Twelve
by Tessa Kiros
6 fillets firm white fleshed fish
salt and pepper
about 1/4 cup flour for dusting
3 Tbsp olive oil
1/2 cup white wine
1/4 cup water
2 garlic cloves, peeled and finely chopped
1 Tbsp each of these finely chopped fresh herbs: parsley, rosemary, sage, mint, and thyme
2 Tbsp butter
Preheat the oven to 425 F.
Season the fish with salt & pepper. Lightly dust both sides with flour.
Put the olive oil into an oven safe dish and add the fish, the wine, and water. Scatter on the garlic and the mixed herbs, and spoon some of the liquid over the fish. Dot with the butter.
Put into the hot oven and cook for about 20 minutes. The fish should be opaque white and soft, with a little sauce bubbling up. Cook longer if necessary. Serve hot.