I Heart Cooking Clubs is showing some Valentine spirit this week "
IN THE PINK
."
Valentine's day always takes a back seat to Mardi Gras here. More effort goes into finishing touches on costumes and packing coolers of beer than ordering roses and finding that perfect box of chocolates.
We're romantic, what can I say.
There was romance to be found in this week's dish. Even if it was garlicky.
The three of us swooned. Hearts all a-flutter.
Who needs flowers or chocolate or a sappy card?
Well, ok. I do still want chocolate.
Notes: The sauce is wonderful--full of garlic and tangy from the feta. The feta also gives a slight creaminess. This is supposed to be an appetizer, but I think tossing with pasta would make for a fine entree. Would also like to try it over grits. Our only complaint was leaving the tails on the shrimp. Sure, the shrimp look fancy-pants and sleek like that. But, really. You certainly don't look fancy-pants or sleek fighting shrimp tails slathered in tomato sauce.
Really good dish--defintely made the top ten Tessa Kiros recipes we've tried so far.
Linking with:
I Heart Cooking Clubs
Cookbook Sundays #11
at Couscous & Conciousness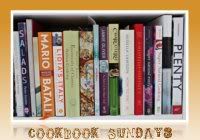 Printer Friendly

Garides Saganaki
Shrimp w/ Tomato & Feta

adapted from
Food From Many Greek Kitchens
by Tessa Kiros
1 lb shrimp
5 Tbsp olive oil
4 green onions, chopped (white and green parts)
3 garlic cloves, chopped
14 oz crushed tomatoes
1/4 c chopped Italian parsley
salt and pepper
4-5 oz crumbled feta
Peel the shrimp, leaving tails intact.
Heat the oil in a large skillet that has a lid. Saute the onion in the oil on medium low until softened. Add the garlic and cook until fragrant. Add the tomatoes, half of the parsley, and some salt and pepper. Cover and simmer for about 10 minutes.
Add the shrimp and turn to coat with sauce. Simmer, covered, for 3-4 minutes. Scatter the feta on top, cover, and cook until the feta softens--about 5 minutes. Rock the pan a few times while cooking. Season to taste with salt and pepper, top with remaining parsley, and serve with bread.