When it comes to recipes & food ideas, my mind is a steel trap. Capturing. Ensnaring the details. I have a knack for remembering which page in which cookbook our favorite dinners can be found. Or who posted a certain recipe 6 years ago to the cooking forum I belong to.
Storing all this trivia...it's a gift.
(Or not that big of a deal at all. Just let me have my moment, ok?)
And don't go gettin' all jealous.
My steel trap is a selective one. Food trivia only.
How many times have I pitched a big ole hissy because I couldn't find my keys? (Which were in my pocket.)
More times than you need to know. Thankyouverymuch.
How many times have I
asked
accused, "who moved my shoes" because I couldn't find them? (Which were
not
on my feet, smarty pants.) Um...lots.
How often do I find myself stuffing my son's underwear into the dish towel drawer when I'm putting away laundry?
Way more than you'd think.
You're laughing, I know. Laughing with me. I know that too.
When I made Fusilli con Cavolfiore (Fusilli w/ Cauliflower) from Tessa Kiros's
Twelve
, so much food trivia swished around my brain (because not much else lives there).
I immediately thought of roasted cauliflower with 16 cloves of garlic and rosemary, shared by Barbara.
A chili oil recipe from one of
our favorite Giada pasta
dishes also came to mind.
And since I was skipping the anchovies and tomato paste from the original recipe, I'd better lift this dish up with something.
How about the spicy, lemony crumbs that topped a
Spicy Roast Chicken
from Food & Wine Magazine, January 2008? So glad I remembered those.
We're simply
not
going to discuss the fact that I forgot to toss some parsley on top.
Notes:
I enjoyed the dish, made for this week's I Heart Cooking Clubs "
White as Snow
" theme.
I thought the garlicky roasted cauliflower w/ rosemary, pasta, and lemony crumb topping all played nice together. This is a pasta. And roasted garlic. So The Boy was in heaven. When we sat down to eat, The Husband commented about the dish looking bland since it was so white.
Yeah, yeah. Little Miss remember everything forgot the dang parsley. Why does everyone keep bringing that up? This is
White
as Snow week. Just sayin'. Anyway, he couldn't get past the pale look of the dish to enjoy it as much as I did.
Also linking with:
Cookbook Sundays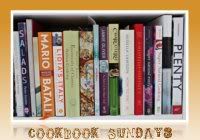 For a version closer to the original recipe, visit
Natashya
.
Printer Friendly

Farfalle w/ Roasted Cauliflower

adapted from
Twelve
by Tessa Kiros
cauliflower:
1 head of cauliflower, cut into florets
olive oil
16 cloves of garlic, peeled
2 tsp fresh chopped rosemary
salt & pepper
pasta:
1 lb farfalle pasta
about 1/8 cup olive oil
2 good pinches red pepper flakes
salt and pepper
cooking liquid
topping:
handful of Ritz crackers or breadcrumbs
1/2 Tbsp reserved olive oil & red pepper flakes
zest of half a lemon
chopped parsley, unless you forget (like me)
Preheat oven to 425. Toss the cauliflower with enough olive oil to coat in a large baking dish. Sprinkle in the rosemary, garlic cloves, salt, and pepper and toss again. Roast for about 20-25 minutes, turning occasionally.
While the cauliflower roasts, cook the pasta according to the package directions, reserving some of the pasta water.
In a skillet, warm the 1/8 cup of olive oil with the red pepper flakes over low heat. Reserve about 1/2 Tbsp for the topping. When the cauliflower and garlic are done, toss them, along with the olive oil & red pepper flakes and the pasta. If the mixture seems dry, add a small amount of pasta water. Season to taste with salt and pepper.
Add the reserved oil back to the same skillet you used. Stir in the cracker crumbs to coat. Cook briefly to toast, then add the lemon zest. Sprinkle over individual servings of pasta. Garnish with parsley.