This week's I Heart Cooking Clubs theme is "
Under the Tuscan Sun
."
Every week I find myself turning the pages of Tessa Kiros's Food From Many Greek Kitchens. You may have noticed. So I welcome the push to move to another Kiros book I own--Twelve: A Tuscan Cook Book.
I like the way this book is arranged. By month. We tend to eat seasonally, whether it's vegetables and fruit from my garden, game from my dad, or whatever seafood is peaking at any given time. And that's just how Twelve presents the recipes.

While Food From Many Greek Kitchens is filled with the vibrant blues and crisp whites of Greece, the photography in Twelve captures the warm and earthy tones I imagine Tuscany to have. If paint chip names are to be believed.

The paperback version of Twelve, which is what I have, is thick. I've found the binding to be less than ideal. I've flipped through this book maybe 8-10 times and the cover has already come detached...and that's disappointing.
The food has not been, though. And I guess that's what counts.

The first recipe I tried from Twelve, Penne alla Senese, was excellent. I had high expectations for my second stab at this book: Scaloppine alla Pizzaiola.
Kiros's pizzaiola recipe is for veal. In my kitchen, veal turned into chicken. I also added some baby spinach leaves on top of the chicken because I had some burning a hole in my refrigerator.
All three of us thought this was great. Kiros explains that a pizzaiola is a pizza maker. Since this dish has ingredients found on a pizza (tomato sauce, oregano, mozzarella), it is called pizzaiola. The flavors really did touch on pizza. We ended up referring to our meal as "pizza chicken."

I also liked this dish because it was easy to prepare on a weeknight (I made the homemade tomato sauce ahead of time). Simple, clean ingredients. Simple prep.

This pizzaiola recipe uses Kiros's recipe for Simple Tomato Sauce, found in the "basics" portion of the book. I made the sauce and loved it. Took liberties with using extra garlic and less oil. I used canned tomatoes since I don't even glance at fresh tomatoes this time of year. But I do look forward to trying the sauce this summer with homegrown tomatoes. The pizzaiola recipe calls for a smooth version of this sauce; I opted to leave it chunky.

Perhaps not a wise choice when it comes to photography. But I liked the texture. What might not be pleasing to your eyes was very pleasing to my taste buds.
Visit IHCC for more Tuscan creations.
Also linking this recipe and review with Cookbook Sundays at Couscous & Consciousness.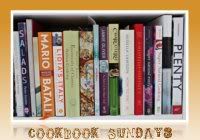 Printer Friendly
Chicken alla Pizzaiola
adapted from Twelve: A Tuscan Cookbook
1 recipe simple tomato sauce (see below) --about 1 1/2 c
1 tsp dried oregano
1 lb chicken breast, 4 servings sliced or pounded thin (or use cutlets)
1/2 c flour
salt & pepper
2 Tbsp olive oil
2 Tbsp butter
handful baby spinach leaves (optional)
1-2 slices mozzarella cheese per piece of chicken (enough to cover each piece)

Add the oregano to the tomato sauce.

Season the flour well with salt and pepper. Dredge the chicken in the flour, shaking off the excess.

Heat olive oil with butter in a large skillet on medium high heat. When foamy, add the chicken. Cook on one side until golden. Turn and cook on the second side until cooked through. This should only take a few minutes.

Pour the tomato sauce in the pan on and around the chicken. Top each piece of chicken with some spinach leaves if using then a slice or two of mozzarella. Lower the heat to low setting and cover. Cook for a couple of minutes until cheese melts. Serve.
Simple Tomato Sauce
adapted from Twelve: A Tuscan Cookbook
4 cloves garlic, chopped
2 Tbsp olive oil
1 large (28 oz) can diced tomatoes
1/2 tsp salt
black pepper to taste
1/2 tsp dried basil

Put the garlic and olive oil in a saucepan and heat on medium. When the garlic starts to sizzle, add the tomatoes and juices. Season with salt, pepper, and basil. Bring to a boil.

Lower to a simmer and simmer for about 30 minutes to thicken the sauce. Use right away, refrigerate, or freeze. This will produce a chunky sauce. Puree in a blender for a smoother sauce.