This week's I Heart Cooking Clubs theme is "Goodies."
But before I get nitty-gritty (in the form of finely chopped pecans) with Tessa Kiros, I want to talk about a different kind of goodie.
The kind of goodie who sounds all bossy boots telling you not to make any plans for Saturday afternoon. And when Saturday morning rolls around, he tells you, "lunch then butts in the car by noon."
Well, what kind of goodie is that?
The kind who shoves you out the door and says get in the car. But then goes back into the house. And produces John Besh's new My Family Table cookbook. And proceeds to tell you that he's reserved seats at a cooking demo/book signing with John Besh.
That's the kind of goodie I'm talking about. A good as gold goodie.
John Besh made his Southern version of Italian Wedding Soup--using leftover Southern greens and black eyed peas.
He brought one of his sons, Jack, along to help with the demo. Jack was the expert meatball roller. Besh used ground pork and rice in the meatballs, nodding at a Louisiana delicacy--the boudin ball.
After the demo and tasting, cookbooks were signed. Pictures taken.
There was no question I'd make this recipe when I read the title "Honey Cakes (Melomakarona)."
The Boy may kill me in a year or two. Or probably tomorrow. But part of the definition of parent includes the words unblinking embarrassment. The kind that stretches "mom" into 5 or 6 syllables. Go ahead. Get out your Webster's.
Since he was a tiny little baby up until very recently I've called him "Honey Pie." As in "Night-night, Honey Pie." "Love you, Honey Pie." "Whew! You smell like dog, Honey Pie!"
Honey Cakes seem like kin to all this sweet, mushy stuff. Couldn't pass 'em up.
In the intro to the recipe, found in (yep, you guessed it) Food From Many Greek Kitchens, Tessa Kiros explains that these cakes are a common Christmas goodie in Greece.
Notes: The cakes started off good, but only improved as the days went by and the sweet honey-cinnamon-orange syrup seeped in deeper and deeper. They are dense, flavorful, and rich. The flavors and aromas of cinnamon, clove, and nutmeg were perfect for this time of year. They did drive The Husband crazy though. He says that he's tasted something similar--maybe something his mom or MaMa made--but he couldn't place it. This may be the first time I've baked with olive oil. Didn't know what to expect since here in the US, olive oil is not generally used in sweets. It all worked out. I only changed two things, using ingredients I already had instead of going to the store...pecans for the walnuts (as usual) and satsuma juice and peel instead of orange.
Linking with Cookbook Sundays @ Couscous & Consciousness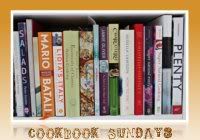 Printer Friendly
Honey Cakes (

Melomakarona)
from Food From Many Greek Kitchens by Tessa Kiros

6 TBSP sugar
3/4 c extra virgin olive oil
3 TBSP brandy
juice of 1/2 orange (I used a satsuma)
1 tsp grated orange zest (satsuma)
1 tsp baking powder
1/2 tsp baking soda
2 tsp ground cinnamon
1/4 tsp ground cloves
1/4 tsp grated nutmeg
2 c all purpose flour

For the syrup:
1/2 c honey
3/4 c sugar
1 strip orange zest (used satsuma)
1 small cinnamon stick
3/4 c water

15 whole cloves
3 TBSP crushed walnuts for serving (used pecans)

Preheat oven to 350 F and line a baking sheet with parchment paper. Stir the sugar and oil in a wide bowl until dissolved. Add the brandy, orange juice and zest. Mix the baking powder, baking soda, ground cinnamon, ground cloves, and nutmeg into the flour. Add to the bowl and mix to a loose dough with a wooden spoon. Using your hands, knead to a soft, smooth dough.

Break off small clumps of dough, about 1 1/2 ounces each--you should get 15 (I made 16; easier to divide the dough). Roll each into a ball between your palms, then form small ovals of about 2 1/2 x 1 1/2 inches. Set them onto the baking sheet and bake until firm and the bases are gold, about 30 minutes.

While they are baking, make the syrup. Put all the ingredients in a small pot and stir over medium heat until the sugar dissolves. Simmer for 5 minutes, then keep warm.

Put the cakes in a dish with sides so that they fit in one layer. Stud each with a clove. Pour the syrup over them, covering each well. Leave for 5 minutes. Spoon some of the syrup (it will be thicker now) from the bottom of the dish over the tops of the cakes and sprinkle with the walnuts. Remove to a serving platter. Drizzle walnuts with remaining syrup. Cover and cool completely. Will keep for many days, stored in a covered container.

~~~~~~~~~~~~~
See Ya In the Gumbo Potluck link-up now until Dec. 23