Welcome to
Garden Variety Wednesday #13!
Of everything I grow I think I enjoy cooking with herbs the most. When I get home from work, I look forward to foraging in my herb bed before I get started on supper.
Dishes that allow me a few minutes of sneaking off, like the Greek Herb Spread above, are appreciated.
Remember when my herb garden looked like this?
Hot, dry summer: 1
Adored herb garden: 0
Jealous, right?
The basil couldn't take the heat and drought and gave up.

Both parsley plants were invaded by swallowtail larvae.
I wish I could be kind, giving, gentle. But I was mean, greedy, and squashed more than a few of those suckers. I was willing to let them have one plant. They didn't agree with my plan.

The thyme turned into a very fragrant tumbleweed.

The Husband thinks I'm pretty smart, though. Cutting out that extra step and growing dried herbs.
Luckily I made this recipe before summer left its dry, dusty mark.
Greek Herb Spread comes from an herb book I thumbed through. But I can't for the life of me remember which one.
I used parsley, green onion, mint, and oregano from the garden...ya know, while they were still green and fresh.
Also used were Greek yogurt, cream cheese, feta, lemon, garlic, salt, & pepper, and two surprises: cinnamon & nutmeg
Putting it together is no trouble. Only a matter of a little chopping then mixing everything.
But you do have to let it hang out in the fridge for the flavors to blend.
Serve with crackers, pita chips, or toast.
Printer friendly


Greek Herb Spread
8 oz cream cheese, softened
1/4 c plain Greek yogurt
heaping 1/4 cup crumbled feta cheese
1 clove garlic, crushed
1-1 1/2 Tbsp lemon juice
about 1/4 c chopped parsley
about 1/4 cup chopped green onion
1-2 Tbsp chopped mint
about 1 Tbsp chopped oregano
pinch or two of cinnamon
pinch or two of nutmeg
salt & pepper, to taste

Combine all ingredients in a bowl and mix with a hand mixer (not a blender or food processor). Taste for seasoning and herbs and adjust. Cover and chill to allow the flavors to develop. Serve with crackers, pita chips, or toast.
~~~~~~~~~~~~~~~~~~~~~~
GARDEN VARIETY WEDNESDAY # 13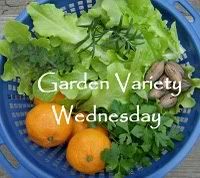 ~ Made a dish with something you nurtured in your garden?
~ Maybe a neighbor stopped by and shared some of his/her harvest?
~ Have baskets of goodies from a pick-your-own farm?
~ Found some treasures at your local farmer's market?
Share them here!
* Please don't forget to link back to Ms. enPlace or grab a button.
* Link your post--not your home page.
* Since growing seasons differ so much even across the US, old/archived posts are welcome, but please edit with a link back or a button.
* Have fun visiting other blogs!
Garden Variety Wednesday schedule:
One round left
~~~~~~~~~~~~~~~~~~~~~~
Linking up with:
Make a Food-"e"-Friend Monday @ The Saturday Evening Pot
Tuesdays at the Table @ All The Small Stuff
Tasty Tuesday @ Naptime Creations
Hearth and Soul vol 63 @ Mom's Sunday Cafe
Delectable Tuesday @ Home Sweet Farm
Let's Do Brunch @ My Sweet & Savory
Turning the Table Thursday @ Around My Family Table
Simply Delish @ KB & Whitesnakes Home
Potluck Friday @ EKat's Kitchen
Fresh Food Friday @ la bella vita
Friday Food @ Mom Trends