Welcome to
Garden Variety Wednesday # 5.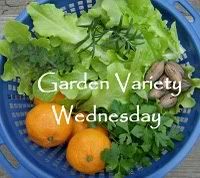 Made a dish with something you nurtured in your garden?
Maybe a neighbor stopped by and shared some of his/her harvest?
Have baskets of goodies from a pick-your-own farm?
Found some treasures at your local farmer's market?
Link up here!
* In your post, link back to Ms. enPlace or grab a Garden Variety Wednesday button and add it to your post.
* Link your post--not your home page.
* Please, one link per person.
* Since growing seasons differ so much even across the US, old/archived posts are welcome, but please edit with a link back or a button.
* Have fun visiting other blogs!

See side bar for GVW #1-4.
Garden Variety Wednesday schedule:
May 25
June 8 & June 22
July 13 & July 27
August 10 & August 24
Past August...up to Mother Nature and if participation picks up