Next to Mardi Gras, Halloween is my favorite celebration. I love the costumes. Love the parties and decorations. Love the Halloween themed food--both the cute and the gross. And I love Halloween candy. Milk Duds are my favorite.
Around Oct 1, I decorate both outside and in. Yes, I'm one of those people who puts up decorations early. I figure if I'm going to the trouble of doing it, I'm not going to turn around in 1-2 weeks and take it all down. Heck no! I'm going to get mileage out of that work baby!
One of my favorite things to do is carve pumpkins. We always do two. One is more or less a standard jack 'o lantern that The Boy helps with. The second is just for me and is more elaborate--like a cat silhouetted against a full moon, or a black widow spider. There are tons of templates online.
The tradition The Boy loves the most, besides trick-or-treating (but I probably didn't need to specify that, right?), is having a Halloween themed meal and making Halloween themed treats.
Sometimes it's simply Halloween shaped and decorated sugar cookies.
Sometimes I completely lose my mind and do something like this with him:
These might be cute, but they are also a lot of trouble!
Before trick-or-treating, we always have a Halloween meal. They Boy is partial to Crescent Mummy Dogs (Pillsbury) and Apple Bites (Family Fun).
Both are fun to make and eat.
I'll throw another idea out attcha...I always wanted to make the mashed potato ghost topped shepherd's pie from Pillsbury.
But The Boy, my own flesh and blood, does not like mashed potatoes.
No October or Halloween would be complete without eating something pumpkin. My favorite is this Pumpkin Ribbon Bread from an old Taste of Home mini cookbook.

First, it is way cool how that layer of cream cheese turns into a beautiful swirl in the middle of the bread. Second, it tastes darn good too.
Mise en place for Pumpkin Ribbon Bread
Ribbon part: cream cheese, sugar, eggs,
flour
Bread part: pumpkin, oil, eggs, sugar, flour, baking soda, salt, cinnamon, ground cloves
Start by making the cream cheese layer.
Beat softened cream cheese (I use 1/3 less fat) with sugar and flour.
Then beat in one egg.
Set aside.
Time for the bread part.
Beat the pumpkin, oil, and eggs.
Then add the sugar, flour, baking soda, salt, cloves, and cinnamon.
Grease and flour two loaf pans.
I read recently that for quick breads, pans should only be greased and floured halfway up the sides. This is supposed to help quick breads "climb" the sides of your pans, preventing flat loaves.
Add 1 scant cup of the pumpkin mixture to each pan.
Pour 1/2 cup of the cream cheese filling in each pan over the top of the pumpkin batter. Then divide the rest evenly.
You should have roughly 1 c of pumpkin batter for each pan remaining. Carefully pour and spread that over the cream cheese.
Bake at 325 for about 1 hour, or until a toothpick comes out clean. Cool before removing from pans.
Linked to:
What's on the Menu Wednesday @ Dining With Debbie
Tip Day Thursday Carnival (Halloween) @ Around My Family Table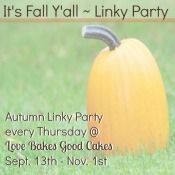 Printer Friendly
Pumpkin Ribbon Bread
adapted from Taste of Home
For filling:
6 oz cream cheese, softened
1/3 c sugar
1 T flour
1 egg
For bread:
1 cup cooked or canned pumpkin
½ c vegetable oil
2 eggs
1 ½ c sugar
1 2/3 c flour
1 t baking soda
½ tsp salt
½ tsp ground cinnamon
½ tsp cloves
Beat cream cheese, sugar, and flour together in a small bowl. Add egg; mix to blend. Set aside.
In a large bowl, combine pumpkin, oil, and eggs. Add sugar, flour, baking soda, salt, cloves, and cinnamon. Mix to blend. Pour half of the batter into two greased and floured 7 ½ x 3 1/2 x 3" loaf pans. Carefully spread the filling mixture over batter. Add remaining batter, covering filling. Bake at 325 for 1 hour, or until bread tests done
with a toothpick. Cool 10 minutes before removing from pans. Store in refrigerator. Yields 2 loaves.
~~~~~~~~~~~~~~~~~~
M from
Betty Crapper
tagged me in a "get to know you" internet game.
The rules: answer eight questions provided by me, then pick 8 blogs to tag. Give those blogs 8 questions of your own.
M's questions for me:
1. What is your favorite cookbook?
The Border Cookbook by Cheryl Alters Jamison and Bill Jamison
or
Real Cajun by Donald Link
(depends on what I feel like cooking)
2. What do you feel like eating when you are grumpy?
Chocolate
3. What is your favorite dessert?
Coffee Brownies or gooey caramel topped brownies
4. How did you learn to cook?
Mostly trial and error...lots of trials and errors
5. What is your favorite kitchen appliance or tool?
either a silicone spatula because it scrapes every last drop or a microplane
6. Is there anything in the kitchen that intimidates you?
canning/pickling for fear of killing off my family
7. How far in advance do you plan your meals?
I plan and shop weekly
8. What is your most treasured food related memory?
Hard to pick one. But since I hear pecans falling right now, I'm reminded of this:
Sitting in the backyard with my brothers and dog, eating pecans from the neighbors tree. We'd eat so many that we weren't hungry when mom called us in for dinner.
I'm tagging these 8 bloggers:
Around My Family Table
Beach Eats
Brenda's Canadian Kitchen
Dining with Debbie
Friday Friends
Kahakai Kitchen
Recipes of a Cheapskate
Stirring the Pot
Here are your questions!
1. What is your favorite kitchen task?
2. What is your least favorite kitchen task?
3. What would be your ultimate meal?
4. What is your favorite kitchen tool?
5. Besides salt and pepper, which seasoning, herb, or spice do you use the most?
6. What was your worst kitchen disaster?
7. Which celebrity chef would you want to cook with and why?
8. What is your "signature dish?"